GOOT PX-60RT-3.2D is a long-life M type soldering iron replacement tip for precision component soldering.
Compatibility
GOOT PX-501 Mini-Soldering Station

GOOT PX-501AS Mini-Soldering Station

GOOT PX-601 Mini-Soldering Station

GOOT PX-601AS Mini-Soldering Station
GOOT RX-701 Soldering Station

GOOT RX-701AS Soldering Station

GOOT RX-711 Soldering Station

GOOT RX-711AS Temperature Controlled Lead-free Soldering Station

GOOT CXR-31 Precision Soldering Iron

GOOT CXR-41 Precision Soldering Iron
Standard type soldering iron replacement tip:
B, SB, 1C, 2C, 3C, 4C,
1.2D, 2.4D, 3.2D, 5L, LB.
Round solder-plated type
soldering iron replacement tip:
1CR, 2CR, 3CR, 4CR.
Tip Structure
This soldering iron replacement tip has a copper base. Inside of the tip there is an antistick stainless steel collar. This iron tip has a laser print for identification.
Temperature Stability
The characteristic of soldering iron tip temperature recovery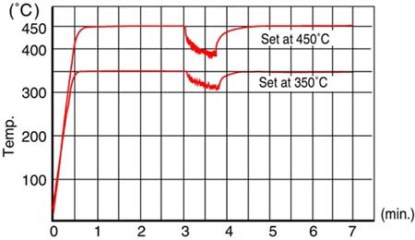 The characteristic above was obtained by melting a solder consecutively on 5 x 5mm PCB land size and simultaneously measuring tip temperature with a thermocouple fit on a tip.
While replacing the standard soldering tip, temperature indication inaccuracy may occur because of tip shape or weight differences. In this case, it is necessary to calibrate the soldering iron.
Estimated indication accuracy after replacement of a standard soldering tip:
| | | | | | | | | | | | |
| --- | --- | --- | --- | --- | --- | --- | --- | --- | --- | --- | --- |
| Tip type | B | SB | 1C | 2C | 3C | 4C | 1.6D | 2.4D | 3.2D | 5K | LB |
| Indication accuracy, Cº | 0 | -20 | -5 | -10 | -15 | 0 | 0 | -5 | -5 | 0 | -20 |
Replacement Procedure
Unscrew the barrel nut.
Take off the heater collar.
Replace the soldering tip.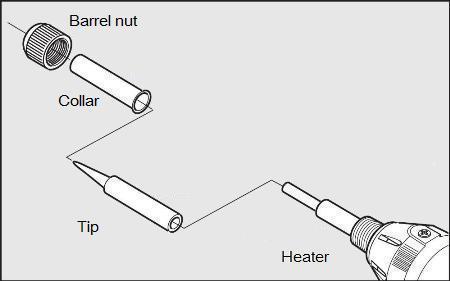 Stainless steel collar inside the tip can stick to the heater. When replacing a tip, be sure to take it off from the heater. To prevent an iron tip and a heating element from sticking to each other and
from damage when replacing a tip, regularly take it off and put it back on.
Useful Information
The iron tip may work less if you use lead solder than when you use lead free solder.
Do not clean the iron tip with a cleaning pad or a rasp-file.
Soldering iron tip thermal conductivity worsen when oxides stick to it. To clean a tip, use a moist cellulose

tip cleaner sponge

.